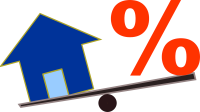 What is a Reverse Mortgage?
We are starting to hear and see more ads for reverse mortgages and touting the benefits of them.
Reverse Mortgages essentially pay the mortgagee rather than the other way around. The amount that the lender is willing to lend is determined by the amount of equity available in the home the mortgagee owns. That is the simplified version.
Here are a few more details:
Q: How do I qualify?
A: Eligible property types include single-family homes, 2-4 unit properties, manufactured homes (built after June 1976), condominiums, and townhouses. Co-ops do not qualify. Other qualifications: You must own the home, be at least 62 years old, and have enough equity in your home for the lender to lend on.
Q: I have an existing mortgage. Can I qualify?
A: The answer is you may, but the reverse mortgage must be the first lien on the property. So, the first mortgage must be paid off whether it is with the reverse mortgage or by other means.
Q: What about my government assistance?
A: There are some types of assistance it may affect. To be safe, you should contact the local Area Agency on Aging or a Medicaid expert.
Q: What types of payment plans are available?
A: You can choose from several: lump sum, fixed monthly, access as a line of credit or a combination of these.
Often times there is a restriction in how much can be accessed within the first 12 months.
Q: Can I buy a car with the proceeds?
A: You can! Proceeds can be used for most anything: renovations to your home, paying bills, simply to supplement your income, pay off credit cards, etc, etc.
A reverse mortgage may not be your best option though so make sure you do your research. They are expensive up front and eat up the equity in your home which could be an issue down the road.
Contact your lender to discuss what would be best for you. If you need the name of someone we can certainly suggest someone. Call us any time at 508-258-9010.